Sew-Back Thursday: My "Inspired" Edition
Hey Everyone!!!
It's Sew-Back-Thursday again and I have some pieces that "Inspired" me to recreate and modified for my body type..
First up is this sexy little number with gathered sleeves and fluted skirt I made at the end of 2013..
My inspiration was this Alexander McQueen Dress.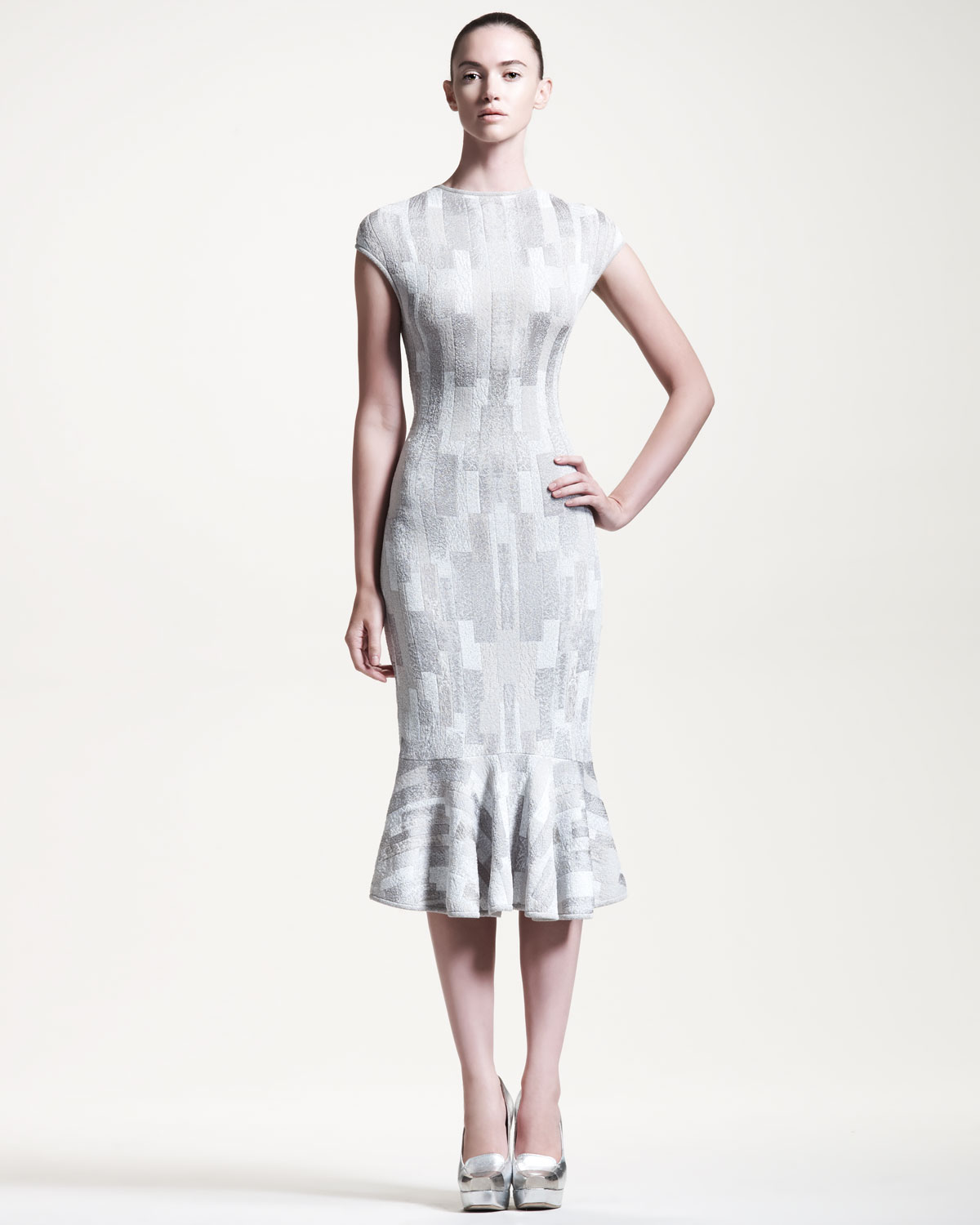 What I did different:
I shortened the shirt part to mid thigh, lengthened the flute about 11 inches and rounded the front neckline because of the "girls".
I also lengthened the sleeves to my wrist.
Wally World is the place I purchased my fabric from, it's a textured, stretched cotton.
Close View of Top
Close View of Fluted Skirt
Close View of Shoulders
Another view of my beauty..
My last inspiration is this little lady..
OMG!!
She stole my heart..
The first time I saw this dress I almost fainted
It's a lovely Tom Ford dress worn but Leann Rimes.
I pulled up the V neck, it was extremely too low for me and didn't do the arms.
Sorry about the grainy pictures ahead.
I made this dress in 2012 and used about 3 patterns together to achieve this look.
I had no idea how to do the shoulders and still don't.
LOL!
I'm the only photographer in my house and I used a better camera now, then back then.
Me trying to model this beauty.
Sorry about the graininess.
Another grainy pic but you get the idea of what I was going for.
Front middle view of dress.
Front view half peplum view
Neck view of dress
Side view half of peplum
Back view of dress,
These are my unmatched pattern days..
Thanks for stopping by and letting me show you my "Inspired" pieces and in the future I will have more to come.
Following are some of my "Inspired" pieces that I plan on making this year..
This dress it soo sexy to me and if you have curves like I do, baby watch out..
DANGEROUS!!
I've had this dress on my Must-Sew List for years and this year I'm determined to make it..
Hopefully by November this will be in my closet and on this blog.
I'm serious!! She brings me soo much joy..
Last but certainly not least is this fun little number.
As soon as I find a great sweater fabric, she will be mine..
I can just imagine this in so many colors and wearing these so many places..
Running errands, out to dinner, lunch, even on casual Fridays at work.
I hope you've enjoyed my Sew-Back-Thursday: "Inspired" Edition.
Please leave a comment and tell me what you think of my "Inspired" pieces..
Until Next Time...
Sew-Back IT CHIC!!!!!!